Summer Messer Seminar
Introduction
On the 23rd and 24th of June, ELSAMHE will host the Summer Messer Seminar 2018 in Strasbourg.
Two days entirely dedicated to this fabulous weapons called « Messer » or « lang Messer », but maybe also a little bit to its descendant, the dussack.
Participants of the seminar will be able to follow classes by either widely renowned European instructors, either who deserved to have this reputation.
This event is also an echo to the Winter Messer Meeting hold two times by AMEK.
A few students from ELSAMHE participated to these two events and were so excited that they had no other desire than to organize a similar event.
Schedule
The schedule is based on the following principle:
Morning is dedicated to class, hold by instructors

Saturday 10-12h: 2 workshops by Olivier Dupuis & Remi Deyme
sunday 10-12h: 1 workshop by Oriol Salvador and a special workshop (more information will follow)

Afternoon is dedicated to free sparrings, exchange, experimentations and some contests, in particular:
The hall will be accessible from 9am to 7pm both on Saturday and Sunday.
Instructors
Olivier Dupuis will dedicate his workshop to a lost source from Peter Faulkner. Hopefully some short extracts remain and one of them in particular deals with the description of the main defense to be done from one of the four guards in messer. Starting from this point, the exercises will lead participants to experiment simple mechanisms to manage the beginning of assaults with a single handed weapon.
Rémi Deyme, Technical stuff from Lecküchner : understanding how and when it can be applied in combat. This workshop will mainly be focusing on trying to fully understand different techniques from the Lecküchner (for example Wincker, Uberlauffen, etc) and discussing on what can make them efficient (or on the contrary what could prevent them from succeeding) in the context of an assault.
Oriol Salvador, The hidden flow of the Lecküchner Messer. During the process of learning new techniques or drilling, too often we take the pieces as a sequence with a clear defined beginning and end. Fighting and sparring is not like this, because one action must be linked to another. That leads to clumsy situations where what we had learnt seems not to work. In this workshop we will work on some pieces, both from the Lecküchner manual and from my own personal preferences, but trying to add some flow to the sequences.
Please fill the form to validate your registration : SMS2018 Registration Form
Two options are available through the form :
Event + saturday night dinner
Event alone, without saturday night dinner
Please note that your registration will only be validated after the payment has been done!
If you face any troubles, or want to modify your choice, please contact us directly by e-mail or by facebook!
Getting there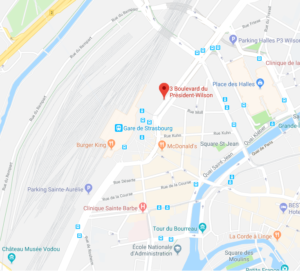 Adress of the Hall : 3 Boulevard du Président-Wilson, 67000 STRASBOURG
Can't be closer to the central train station (Gare de Strasbourg).
Restaurant
On Saturday evening, for those who registered to the restaurant option, the meeting point will be the "Troquet des Kneckes", Grand'Rue: https://goo.gl/maps/LDSnfQpbwfw
Contact
If you need to contact us before the event, please chose one of the following: